A Safe Solution for Dialysis patients with Anemia
Is Hb+ Prickly Pear Safe for my Kidney?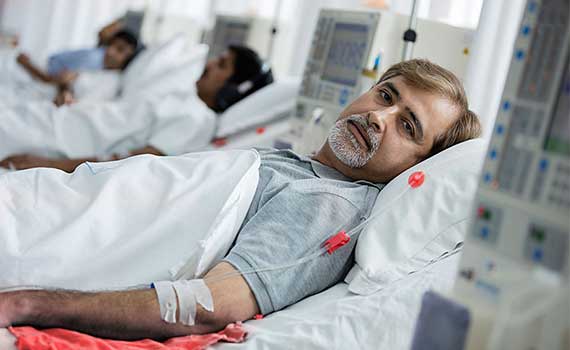 The simple answer is Yes!
---
Let's hear the detailed version of the same.
Hb+ Prickly Pear Fruit Juice contains extreme low level of Sodium & Potassium which makes it highly beneficial for the kidney patients. Also, the iron deficiency developed during the condition is tackled with it (it has approx. 3 times more iron than Spinach). This makes it a highly effective option for the people who are facing this situation.
The effectiveness of Hb+ comes from the special superfood known as Prickly Pear. A cactus fruit harvested in the semi-arid areas of Mexico, Gujarat, Rajasthan and Madhya Pradesh. The fruits have all the characteristics that is required to build such ground breaking claims.
How Hb+ Prickly Pear Fruit Juice will help in treating Dialysis? People on dialysis are at risk for not getting enough iron because
Diet changes – The iron-rich foods like beans are not part of the dialysis diet plan. Dieticians recommend iron-rich foods for dialysis patients.
Loss of blood during hemodialysis – A limited amount of blood is left in the dialyzer after the kidney dialysis process, which leads to blood loss. The dialysis team ensures they check to iron levels regularly to meet targeted hemoglobin in a dialysis patient's body. Sufficient iron levels, if met, it helps to maintain hemoglobin levels in patients. If there is high hemoglobin in dialysis patients, it does more harm than good.
Apart from iron deficiency, kidney patients are on a high-risk end-stage renal disease that can be detected by the signs of kidney failure. The HB+ Prickly Pear Fruit juice can help and back you in these health conditions.
The dosage of 100ml per day will improve the iron, hemoglobin & immunity level to a great. For a quick Fact Check, visit Expert Corner.
Taking the Leap of Faith will finally Pay Off BIG Time!
Hb+ helps you to manage iron deficiency/anemia cost post dialysis treatment. Having low sodium and potassium levels, it is safe for patients with dialysis. All you got is to take the leap of faith and try this natural solution. Rather than having any regrets of not trying your best to manage the health, give it a try!
As you have already discovered about the product and what it can do to mitigate the situation, the only thing left to do is to step out of that chair and take the leap of faith with Hb+ especially in times like this where experimenting is not an option. And we are not hear to take that risk with such cases. Our mission is to make this miracle reach as many people as possible so that no family member feel regretful wishing they had done more to solve the issue earlier.
Thus, spreading the message across the entire world that we have found an option on which the patients can rely upon and recover from anemic situation as quickly as possible.
We will be waiting for you on the other side to hear your success stories.

Order your First Batch of Happiness
Give your health a natural boost with Hb+ Prickly Pear Fruit Juice!