Hb+ Prickly Pear:

 Nutritional Drink for Seniors
What Makes up a Healthy Diet for Seniors? Prickly Pear Fruit Juice!
Reema, who is a 55-year old working woman lives a sedentary lifestyle for over 20 years trying well to balance the demands of work and family. Living a busy lifestyle, she was prone to neglecting her nutrition needs and always grabbed whatever she could – mostly relying on junk food while working at the desk. She always felt lethargic and stressed even when she woke up in the mornings. One day she realized her energy levels were drastically dropping and turned to a healthy drink on her friend's advice. What she experienced after that was just like magic! She no longer experienced low energy levels, stress or lethargy. In fact, she was happier than ever and felt her lively 20s had come back!
Now, if you are also having such nutritional shortfalls, it is time for you to go on for a quick health resolution. Take this as your nutrition strategy as you move into your 40s, 50s, 60s and so on. It is important to change your eating habits with your age. But what is more important is that you get all the body nutrients in a harmonious form.
Hb+ Prickly Pear fruit juice provides the energy necessary for all the body systems to function effectively. It has become way more essential when the majority of the global population is living a sedentary lifestyle today. Maintaining a healthy lifestyle is important as you age. Instead of dieting, it's better to make wise food choices.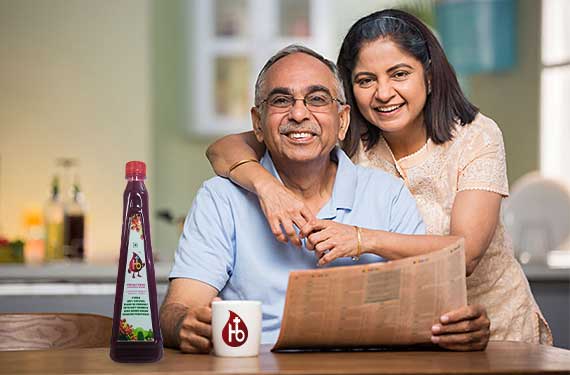 Maintaining a healthy lifestyle is important as you age. Instead of dieting, it's better to make wise food choices.
Contains 30% DV of Iron
Comprises of 21% DV of Calcium
Highly productive and superior in antioxidants
Has anti-inflammatory properties
It is rich in Vitamin C.
Has high fiber contents
Strengthens the immune system
Is it Safe to Drink Hb+ Even If You Don't Have Coronavirus?

Weight Control
Instead of resorting to extreme measures such as weight management pills, switch to dietary fiber in the form of Prickly Pear. Consume one cup of this superfood every day, and it will help you stay close to your ideal weight.
 Lowers Cholesterol
The Prickly Pear has this fiber pectin which helps eliminate "LDL" cholesterol and boosts good cholesterol "HDL." Experiments have proven that Prickly Pear can reduce both hepatic and plasma levels.

Anemia and other Diseases
Prickly Pear helps fight Anemia. The flavonoid compounds in the Prickly Pear help lower the risk of prostate, breast, pancreatic, ovarian, and lung cancers. These compounds inhibit cancerous cells.
Good source of Macro and Micronutrients
All the nutrients in Prickly Pear help boost your immune system and provide the nutrition that you deserve. The nutrients also help your body digest food better. Better digestion reduces stress.

Order your First Batch of Happiness
Give your health a natural boost with Hb+ Prickly Pear Fruit Juice!